Couples Overcoming PTSD Every Day
The COPE Program is the brain child of LCol (retired) Chris Linford, his wife Kathryn and Dr Tim Black PhD, R Psych. They have worked hard at gathering the right group of stakeholders to the table to make the COPE Program a reality. Chris served 33 years in the Canadian Armed Forces and has battled PTSD since 1994 after his deployment to Rwanda. Kathryn has also been significantly impacted by his PTSD as well their three children, Victor, Jeffrey and Jennifer. Dr Black has worked with veterans afflicted with PTSD for almost two decades and is renowned for his work nationally.
Chris and Kathryn discovered that if their relationship was working well, the impact of PTSD upon them was significantly lessened. Chris had always believed that his PTSD was simply his issue and it had no impact upon his family. His PTSD had not only impacted his wife and children over the years, it also shaped how they managed things in the home. The children were sometimes fearful of Chris' anger and learned to say what they needed to keep the peace in the home.
Chris started to listen; he learned to really hear family members and give them the space they needed to be heard and validated. The level of honesty between Chris and Kathryn became stronger and as a result their communication became much improved. Many positive things started to happen between them and life in their home became much more pleasant.
As a couple they each learned how important it was to their own relationship to get the air cleared between them and to learn to accept each other again as equals in the home. A spirit of cooperation, trust and honesty now permeates their home, which has led to a vastly improved relationship and has also led to the creation of the COPE Program.
COPE programs are delivered nationally and in English and French and are open to all Canadian veterans and first responders and their spouse/partner. This group includes currently serving and retired/released veterans of the CAF as well as RCMP, Police, Fire, EMS and Corrections services. Also included are Nursing staff who work in emergency services. We load COPE on a first come first served basis so register as soon as possible.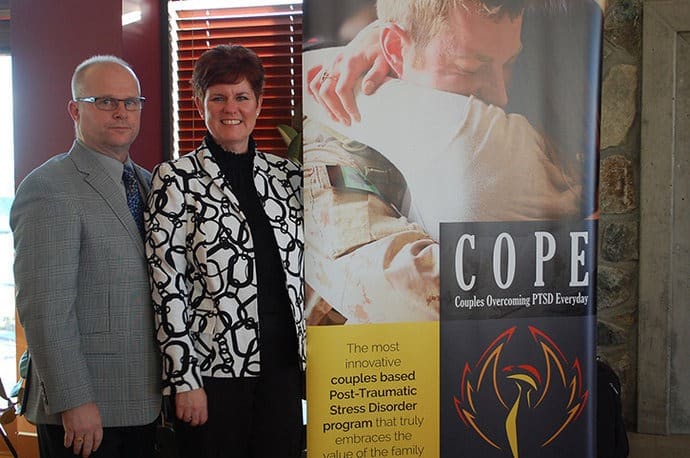 All the best
Chris and Kathryn Linford
COPE co-founders
The Wounded Warriors Canada Couples Overcoming PTSD Every Day, or "COPE", program includes the spouse or partner as part of the learning and forward movement. During the five-day Phase One of the COPE Program, five couples managing PTSD are gathered together to work on their relationships as a group; they will learn as a tiny community of similarly injured people. The idea is to use this community approach to help couples to recognize they are not alone in this fight; they can all get well together and learn from each other through this process.
For more information see: couples-overcoming-ptsd-everyday