"Equine-facilitated psychotherapy is a promising approach to address self-esteem, depression, and other emotional or psychological problems. Restoration of the trauma victim's capacity for recovery hinges on provision of safety and development of trust, self-esteem, and self-efficacy. Thus, recovery from trauma represents an ideal context for exploring the therapeutic impact of equine–human relationships. The six participants in this study recognized that their pre-existing relationships with horses were therapeutic during recovering from trauma, defined as sufficient to have caused significant change in the participant's life."
See more click Therapeutic Value Of Equine Human Bonding in Recovery of Trauma
Can Praxis uses horses along with an experienced Trauma Psychologist and a Veteran/First Responder Mediator facilitation team to help participants overcome their injuries and regain their family relationships
The Can Praxis three day program was created by a 28 year Veteran and is designed for Veterans and First Responders, serving or retired, who have been diagnosed with PTSD and/or OSI and their Spouses/Partner/Family member. Couples who suffer the effects of PTSD /OSI will experience increased crisis and conflict in their lives. All activities at Can Praxis are designed to reduce inter-personal conflict and crisis through improved effective communication skills. View this clip: http://youtu.be/i_iwRe8zoNE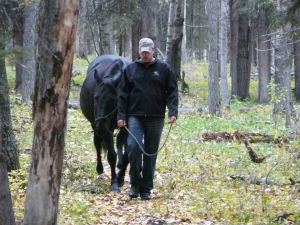 As unresolved conflict destroys relationships, and is especially common in overly stressed families, Can Praxis trains participants to manage their conflict effectively. The theoretical foundation for this is Managing Differences by Dan Dana PhD. Richard F. Celeste, former Governor of Ohio, described the book as "A practical guide for dealing with conflict. Dr. Dana moves from scholarly content to common sense with uncommon ease."
Can Praxis uses walk-along exercises with horses as a training aid. As a 'flight' animal they react to human body language. Horses react to what they see; it is their body language that speaks volumes about humans in their proximity. As EAL facilitators, we offer a translation the horses' behavior to participants in order to increase their own self-awareness.
Fredericton, NB - Freedom Reins
Freedom Reins - Equine Assisted Learning offers Life skills, team building, and Personal development programs.
Some of these skills gained by working with the horses are :
Building Trusting Relationships

Confidence

Leadership

Communication

Articulation

Active listening

Problem Solving

Negotiation

Trust

Focus

Choices

Body Language

Team Building

Self-Esteem

Self-Awareness

and much much more!
We specialize in providing individualized  programs for anyone struggling with PTSD along with families as a whole dealing with the illness.
We also provide programs for youth, Autism spectrum disorders, anxiety and self esteem building.
Kristi St-Hilaire has many years experience working with both youth and adults. She is and Educational Assistant, a mother of 2 and has been a military wife for 15+ years and see the affects of PTSD on the community.
Freedom Reins Equine Assisted Learning  c/o Kristi St-Hilaire
Address: 361 Smythe St., Fredericton NB ( NB Exhibition grounds) Race barn #3
Phone: 902-240-8527
Email: contact@ freedomreins2017.net
Brookfield, NS - Healing Through Horses
Healing Through Horses offering equine therapy with respect to the treatment areas of PSTD, addictions, anxiety, depression, self-esteem, trust, domestic violence.
Janet Tomlinson is a Registered Counselling Therapist in the province of Nova Scotia. She has been a therapist for over 12 years. She is also trained in Cognitive Behavioural Therapy, Dialectical Behavioural Therapy, Eye Movement Desensitization and Reprocessing.  Janet recently trained in Equilateral (Equine Assisted EMDR) for trauma.
Healing Through Horses c/o Janet Tomlinson

Address: Brookfield, Nova Scotia

Phone: 902-890-3853

Facilitating Life Skills and Relationships (F.L.A.R.)
FLAR Equine Experience offers Life skill and Personal development programs.
Some of these skills gained by working with the horses are :
Building Trusting Relationships

Confidence

Leadership

Communication

Articulation

Active listening

Problem Solving

Negotiation

Trust

Focus

Choices

Body Language

Team Building

Self-Esteem

Self-Awareness

and much much more!
We specialize in providing individualized  programs for anyone struggling with PTSD along with families as a whole dealing with the illness. We have a different ability to empathize and relate with these individuals because our Owner/Senior Facilitator Rachael Dent-Flynn is a Volunteer Firefighter Lieutenant for the last 8 years.
FLAR Equine Experience c/o Rachael Dent-Flynn

Address: 3693 St. Margaret's Bay Rd. Hubley Nova Scotia B3Z 1B7
Phone: 902-240-8527
Brentwood, ON - New Horserizons
New Horserizons is run by Maud Revel in Brentwood, On , about 10 minutes outside of Canadian Forces Base Borden. Maud is a certified Equine Assisted Learning Facilitator of the Dreamwinds / Cartier Farms program. Her programs are hosted by Kuruka Equestrian, and use a covered arena all year round.
We use horses because they are naturally very aware of their surroundings. They trust their instinct. They don't judge. They don't laugh. They react to us and as such, they are great teachers of leadership and communication!
One of our programs, One Hoof at a Time, is a FREE program for First Responders and Military members affected by Post Traumatic Stress. This program is not intended as therapy. Our participants work on communication, problem solving and listening skills with a team of people and horses, all of this done safely from the ground.
We also offer couple, family and team building sessions (at a cost) based on fun, self-discovery and horse discovery.
New Horserizons offre des sessions d'apprentissage assisté par les chevaux à Brentwood en Ontario, à 10 minutes de la Base des Forces canadiennes Borden.  One Hoof at a Time est un programme GRATUIT pour les militaires et les premiers répondants affectés par le stress post-traumatique. Ce programme n'est pas une thérapie. Nos participants développent des compétences de communication, de résolution de problèmes et d'écoute active, lors d'exercices réalisés avec une équipe de personnes et un cheval.
Nous offrons aussi des sessions payantes en couple, en famille ou en équipe de travail centrées sur la découverte de soi et du cheval, le tout en s'amusant.
Contact: Maud Revel, MA, EAL facilitator
Phone: 705-730-2285
Email: newhorserizons@gmail.com
Website: www.newhorserizons.com
Charmed Horse Assisted Wellness Centre
578 Brown Road, Enterprise, Ont., K0K 1Z0
We are so excited to offer both a PTSD Therapy Group Program, and a PTSD Peer Support and Discussion Group Program for all First Responders and Front-Line Workers.  These Programs are specifically geared to those suffering with symptoms causing PTSD, and will be suitable for those who may have already been diagnosed with PTSD, and for those who may have symptoms and have not been diagnosed.
The EAGALA model will be used, which is an experiential therapy, that uses horses.  A Registered Psychotherapist, and an Equine Specialist are both present during each session to ensure the mental wellbeing and the safety of the client(s).  EAGALA is a globally recognized program, currently operating in about 50 countries.  EAGALA follows a Code of Ethics, that all facilitators are held to.  More about EAGALA see eagala.org
Why horses?  Horses are prey animals, whose instinctual nature gives them the ability to read and react to the emotions around them, and gives the client the opportunity to practice new coping skills with an experience that is real and life changing.
Please wear warm clothing and boots, as sessions will take place inside the insulated barn or indoor arena.  There is a bathroom in the lounge, and plenty of parking available.  Hot beverages, water and snacks will be provided.
Check with your health insurance provider, as some will cover psychotherapy and groups.  Payment for each six-week program is required upon registration, and can either be paid by e-transfer to charmedhawc@gmail.com, or by cash to Donna O'Connell, or by cheque to Charmed Horse Assisted Wellness Centre.  Please register by February 5th, 2019.  Cancellations must be 48 hours prior to February 7th for reimbursement.
If you have any questions, please do not hesitate to contact Donna
Phone: 613-358-9058
Website: charmedhawc.com
Email:  charmedhawc@gmail.com
EquuSpirit: Healing with Horses is an equine-facilitated psychotherapy program that is trauma-specific, grounded in the neuroscience and biophysiology of working with shock and attachment trauma.
Integrating the principles of Somatic Experiencing (a body-oriented therapy for working with the complex physical, emotional, mental and relational dynamics of trauma, PTSD and OSI), as well as mindfulness, experiential learning and other techniques, the EquuSpirit program is one of only a handful of sites in North America to specialize in using these approaches in collaboration with horses as co-therapists. The program draws from the Equine-Facilitated Wellness model developed at Generation Farms in Nanaimo, BC, aspects of the Eponaquest Approach and Adventures in Awareness, as well as the EAGALA model.
Specific weekend workshops and 1:1 sessions are offered for first responders.
If coming from outside the region, please ask about local accommodations or about the possibility of setting up a healing intensive (1, 3 or 5 days in length, combining equine therapy and in-office trauma treatment).
For more information, please visit Website and visit 2019-events
Contact Sarah Schlote, MA, RP, CCC, SEP at
Phone: 1-855-7REFUGE
Email: sarah@healingrefuge.com
Kars, ON - H.E.L.P. Heroes. Equine. Learning. Program.
H.E.L.P. retreat is a confidential, three day, peer based equine program for any service member, veteran or first responder who faces post-traumatic stress and operational injuries. Sessions are held at Tranquil Acres Inc., 40 minutes south of Ottawa city center. H.E.L.P. retreat includes all meals, accommodations and transportation.
This program is not intended as therapy. Building a relationship between the participant and the horse allows problem solving, solution development and effective and invaluable methods for healing. No riding is involved. All exercises with the horses will be on the ground.
Prior horse experience is not necessary. The participant's physical and emotional safety is always at the forefront of what we do. Tranquil Acres Inc. is certified in the Equine Assisted Growth and Learning Association (EAGALA) model and follows their code of ethics.
Click for my experience blog
Address: 7405 Third Line Road, Kars/Ottawa, Ontario K0A 2E0
Telephone: 613-489-5294
Email: info@tranquilacres.ca
Website: tranquilacresguesthouse.com
www.eagala.org EAGALA certification training program coming to Ottawa. For more information on how to become a certified eagala certified facilitator, register for the training, or learn more about EAGALA please visit www.eagala.org Accommodations available at Tranquil Acres Guest House first come first serve. To book a rooms please contact Tranquil Acres at info@tranquilacres.ca or call 613-489-5294. Credit cards will be required to book a room.
Otterville, ON - SonFlower Stables
Horses Healing Human Needs in Collaboration with Resolution Therapies 🌻
Mary Howe is the owner/operator of a not-for-profit business in Otterville, named Sonflower Stables and works as a Grief Resolution Specialist. SonFlower Stables offers a unique blend of Equine Facilitated Learning complimented with Life coping skills with our Grief Resolution Therapies for ages 3 thru 90+…This Process encourages the participant to acknowledge the root of their Grief and suffering. Horses eliminate the denial and power struggle that can occur with humans
"Magical" is a word that comes up several times when trying to describe how it feels to participate in equine-facilitated learning. Why horses and not dogs, you might ask? The simple answer is that horses are the only animal that mirror human behaviour. Both have similar limbic systems within their brains and exhibit similar emotions, from peace and contentment to animosity and jealousy.
At SonFlower Stables we have a devoted TEAM of HORSES who are uniquely sensitive to the Emotional,Psychological Personal development within each human need – Equine Assisted Learning Sessions help us observe the participants requirements of growth – we offer coping skills that will empower their day to day lives within their Work Place, Home, School, Families and Friends…
See article sonflower-stables-provides-an-equine-connection-for-those-seeking-personal-understanding
Phone: (519) 718-1432
FB page: SonFlower Stables – Horses Healing Human Need
Email: maryhowe@fernlea.com
Website: sonflowerstables.com
Rodney, ON - The Stable Grounds - Offering Professional Help to First Responders & Public Safety Officers 
The Stable Grounds Website
We are a privately owned and operated therapy centre, providing residential 30, 60 and 90 day programs for First Responders and Uniformed Professionals who suffer from Post Traumatic Stress Injury (PTSI).  We offer a range of treatment options and focused care in a sprawling, yet intimate farm setting.  We believe that our residential program provides comprehensive treatment that improves recovery times and rates, and allows our guests to work through the healing journey without interruption and with ongoing emotional support.  We recognize the importance of helping those who provide essential services to others and offer priority treatment to support the recovery process through a unique range of therapeutic options.see article
Address: 22678 Johnston Line, Rodney, ON N0L 2C0
Telephone: 905-717-5921

Email: info@thestablegrounds.com
Website: thestablegrounds.com
Saugeen Shores, ON - Prance - Therapeutic Equestrian Centre
Prance - Therapeutic Equestrian Centre, Saugeen Shores
Equine Assisted Therapy (EAT) is a unique and powerful model of psychotherapy which incorporates horses experientially as the centre of the therapy session.  The focus of Equine Assisted Therapy is emotional growth and healing from a wide variety of life's challenges,  traumatic events, difficult situations, and personal struggles.
All ground work, no riding involved, and no previous experience with horses needed.
Equine Assisted Therapy works well for:
Anxiety

Depression 

Grief/Loss

Anger 

PTSD/OSI

Addictions

Disordered Eating

Self-Esteem

Relationships

Communication

Feeling Stuck
Contact: Rebecca Brown, Coordinator Equine Facilitated Wellness Program
Phone: 519-832-2542

Email: pranceefw@bmts.com
Website: www.prance.ca

Sebringville, ON - Takoda Equine
Equine assisted therapy & Healing with horses.
Here at Takoda Equine, we believe that every life is precious. Partnering with the Horses will
 enable clarity and purpose, re-engaging a passion and encourage life changing
 transformations. Our mission is The relationship built among client, facilitator and horses develops the client's sense of self, strengths and supports. The engagement with horses in the herd enlivens and nourishes a sense of joy of life by awakening a sense of self, being mindful and making decisions. Allowing the body to ground, slow down, relax, and build tolerance, clients develop clear boundaries and build capacity for healthy relationships.

Equine assisted therapy and healing with horses. In Equine-Facilitated-Learning (EFL), we invite horses to participate with us, on the ground, in specifically designed activities. Giving a person the opportunity to work one-on-one with a horse can have transformational and life-changing effects. Partnering with a horse allows us to learn about ourselves by getting us in touch with our feelings and emotional states.
Website: takodaequine.com
Email: diane.murray@live.ca
Singhampton, ON - Zen Equus Ranch
Zen Equus Ranch is a charitable organization endevouring to empower those who feels the need to make a positive change in their lives. Be it child, teen, adult, or professional, Equine Assisted Learning will be a great aid in navigating the complexities of a current and difficult situation.
Our target demographic group is the vulnerable sector of our society which includes youth-at-risk, abused persons, recovering addicts and first responders (firefighters, police, paramedics) and Parolees. These individuals are always in danger of developing post-traumatic stress disorder and if not addressed can result in depression with co-morbidity involving many other mental health diagnosis.
Our education we will provide is to promote altruism, compassion and leadership. These qualities are pivotal in maintaining a balanced life, free from emotional entanglement to things that can or cannot be changed.
Website: zen-equusranch
Email: zen-equus.com/contact
Southwestern, ON - Leading Edge Equine Academy
Leading Edge Equine Academy is conveniently and centrally located near Woodstock, On. We serve Southwestern Ontario including London, Stratford, Kitchener-Waterloo plus Toronto and the GTA .  Leading Edge offers empowerment programs for both individuals and organizations.  Specially designed packages are provided for organizations for team development.
What is Equine Assisted Therapy?
Equine Assisted Therapy is an innovative, evidence-based therapy practice which builds on the human-horse connection to help people learn more about themselves and to use that learning to change their lives. Equine Assisted Therapy involves no riding or horsemanship, making it both safe and effective. Clients work directly with horses face-to-face on the same footing. This ground level work enables clients to better perceive the horses' actions and reactions as they work to process and solve their life challenges.
​
Equine Assisted Therapy aids in the healing of:
Grief & Loss

Disordered Eating

Relationship Issues

Divorce

Feeling Stuck

Post Traumatic Stress Disorder

Stress

Depression

Anger Management

Anxiety
How it works
Under the trained eye of the Treatment Team, consisting of a Mental Health Professional and a  Certified Equine Specialist, the horses offer clients honest feedback and usable information that helps them determine, for themselves what is best to build and sustain effective change in their own lives.  Through their intuitive and sensitive nature, horses guide clients to find the resolutions needed for them to live healthier, happier lives.
515588 11th Line, Woodstock OntarioN4S 7V7
Email: monique@leadingedgeequine.com
Website: leadingedgeequine.com
Sundridge, ON - Hoof by Hoof
Equine Assisted Learning
Hoof By Hoof Equine Assisted Learning is located just south of Sundridge, Ontario, and is nestled within the beauty and serenity of the Almaguin Highlands.  It offers a range of unique experiential Equine Assisted Learning opportunities for participants of all ages. 
Our Equine teachers do not judge, they do not criticize and they do not lie.  However, as prey animals, they have an intrinsic awareness and intuitiveness that is utilized to form bonds, connections and effective working partnerships. 
Through the process of visualizing life through the "eyes" of the horse, participants are able to develop new perspective, understanding and ways of facing challenges that can transform into enhanced self-confidence and self-awareness, enhanced communication skills, enhanced leadership skills, and enhanced relationships with self and others.  The experiential nature of the program enables participants to transfer their new knowledge and awareness into improved coping skills, improved thought processing, and an overall improvement in creating balance, self-care and resiliency within both personal and work aspects of life. Interaction with the horses also bares witness to the elements of forgiveness, compassion and empathy in a way that no other animal or human can teach.  Our equine teachers show, and teach us what it truly means to be able to live in a manner whereby we can let go of the past, forego the worries of the future, and truly live in the present moment.  They take us on a journey that provides an opportunity to reconnect with our intuitive mind in a way that builds mindfulness and resiliency, and that promotes a healthier, more balanced, and more meaningful connection between mind, body and soul.
Contact us for further information on our programs, or to inquire about developing specialized workshops for those in trauma-exposed workplaces.  Let our equine teachers help guide you on a journey towards greater awareness, balance and connections within your life.
Betty Hagey, Certified Equine Assisted Learning Facilitator
Phone: 705-492-4851
Email: bet.hoofbyhoof@gmail.com
Website: www.hoofbyhoof.com
or visit us on Facebook
Tottenham, ON - Horse Spirit Connections
Wendy and Andre developed the FEEL (Facilitated Equine Experiential Healing)® model and have been providing a highly respected FEEL Certification Training Program since 2008.
Horses bring you back home to yourself.  With unconditional love, they see beyond the masks and armouring that hide the pain and gently mirror back to us our coping behaviours that may now be inappropriate for both us and our family and community. People feel safe in the presence of one of our wise horse teachers and 'feel felt'. Our
horses form an intimate connection and softly help stuck emotions find their release. Their natural 'vigilance' provides a resonance with frontline service responders.
Our facility, including a covered arena, allows for private sessions, group workshops, and family intensives. We offer overnight accommodations with full kitchen facilities in our private Lodge.
Horse Spirit Connections is located outside of Tottenham, Ontario. Our network includes FEEL Graduates across Canada who can deliver equine programs in your vicinity.
We are honoured to contribute to your healing journey.
Terrebonne, QC - Équi-Sens
Programme destiné aux militaires, vétérans et premiers répondants francophones faisant face au choc post-traumatique et aux problématiques liées au stress opérationnel en partenariat avec le cheval agissant comme moyen d'intervention. (modèle EAGALA, aucune monte à cheval)
Equi-Sens est le seul centre francophone offrant des séances d'intervention assistée par le cheval. Le tout avec un équipe de professionnels formée tant en santé mentale qu'avec les chevaux. Un programme favorisant le retour à la vie civile, de vivre dans le moment présent avec une approche humaniste misant sur les forces de la personne, de ses prises de conscience et en ayant le cheval comme outil d'apprentissage sur le terrain.
Chantal Soucy, Certifié EAGALA
Fondatrice, directrice, IAACET
Centre Équestre Thérapeutique Équi-Sens
20661 rue Victor
St-Janvier de Mirabel, Québec J7J 1P4
Tél: (450) 434-7367
Cell: (514) 803-7293
Courriel: equissens@gmail.com
Site web: www.equi-sens.ca